Join us for our preview at 1919 Greenspring Dr., Timonium, MD  21093 - fill out one of our bid sheets, and hand it to us.  Its simple.  Or, you may email us with your bids.  Click on the link to download a printable bid sheet.  Once its filled out, snap a photo with your tablet or smart phone and email it to us.
Absentee Bid Form
CLICK on the LINK BELOW, to access our online auction catalog.  You may leave an absentee bid using this portal. 
13% buyer's premium applies, discounted to 10% if you pay promptly with a good check.
You may either leave a bid, or bid "live" during our auction.  The lots will be sold in lot number order, and bidders may bid live during the auction.   
Bidders using this platform will be subject to an 18% buyer's premium, which will be discounted to 15% for prompt check payment.
We are a NEW Online Auction Service
Our goal is to provide our clients with a painless, profitable means to sell their collection.  We do the work, and you reap the benefits.
Our partnership is founded on the shared experience of three auction professionals... each bringing their own unique set of talents and energy.  We are willing to go the extra mile to make sure that both buyers and sellers have a positive auction experience.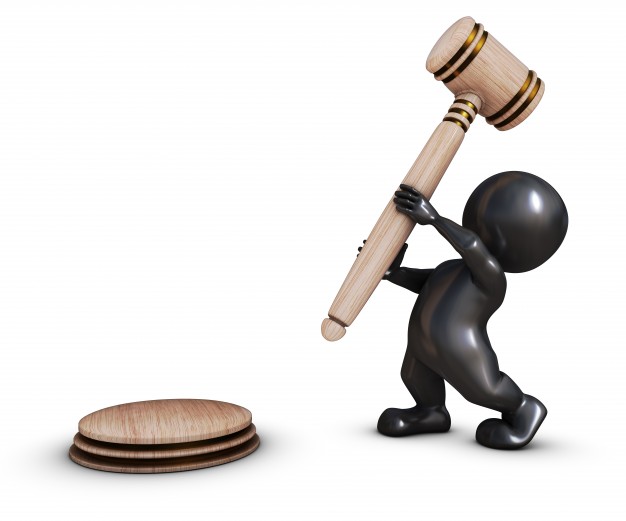 UPCOMING AUCTION
We are having a  PAPER EPHEMERA auction... SUNDAY, APRIL 29TH AT 12 NOON!  We will be posting the online catalog on or about April 10th-15th. Click on the PURPLE BUTTON to view PREVIEW PHOTOS for this auction.  We will be adding more and more photos as we get closer to the auction, so PLEASE KEEP CHECKING BACK!!
UPCOMING AUCTION
The ONLINE AUCTION CATALOG is now READY!  We will be adding a few late additions over the next several days, so PLEASE keep checking back!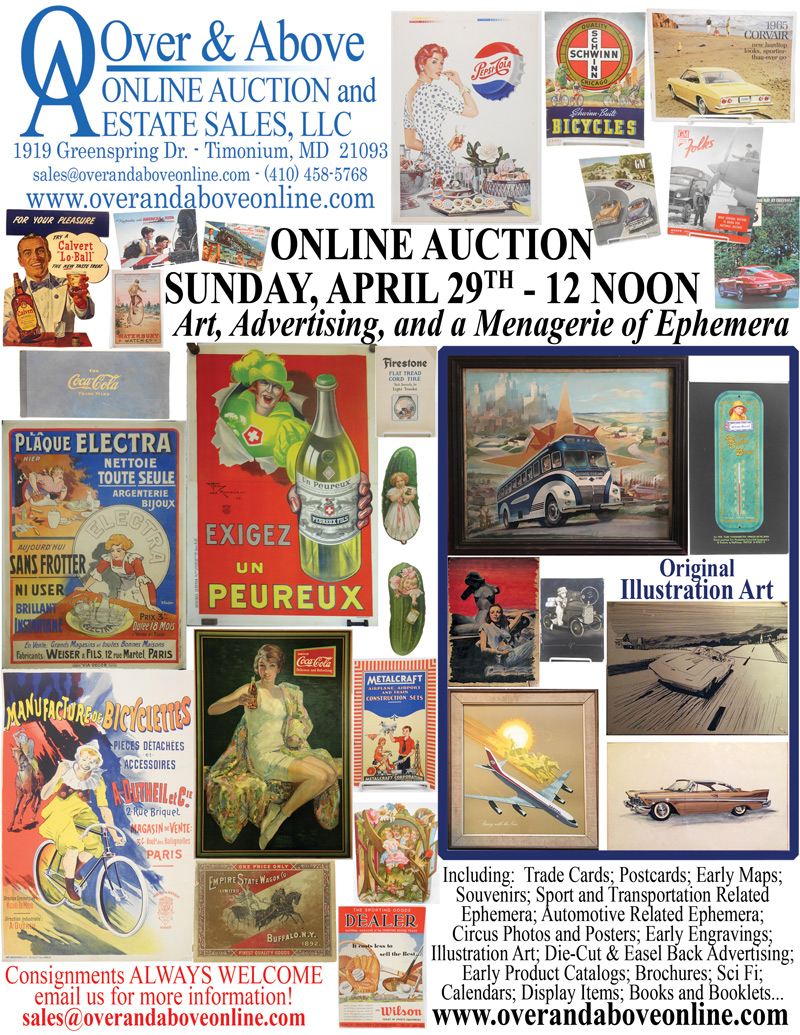 Want to know more details?
We will update this section as much as possible with more information.
The auction will include:  Toy catalogs and brochures:  Schuco, Matchbox, American Flyer, Gilbert, Lionel, Hubley, MetalCraft, Paya, Fisher Price and MORE!; Bicycle posters and advertising, including Schwinn brochures, Humber, Raleigh brochures and more; Automotive brochures include:  Corvette, AMC, Ford Mustang, Chevrolet, Trucks, Morris, Travel Trailers, GM, Volkswagen, Rambler, and MORE; Auto safety items including postcards, posters and additional items; Gas and Oil related items including travel maps, advertising, calendars, and additional items; Soda advertising including Coca-Cola, Pepsi, Moxie, Hires, and additional beverages; Calendars, Trade Cards, Post Cards, country store items and more; whiskey, beer and distillery advertising - including signs and additional items; Ice Cream and creamery advertising and catalogs, including Hendlers, White Mountain, and other companies; early catalogs, including Wanamakers, fashion catalogs, Montgomery Wards Catalogs, Toy Catalogs, Firestone and Western Auto Catalogs and brochures; technical and wiring catalogs; motor and lighting catalogs; Agate Ware and Granite Ware catalogs; Empire State Wagon catalog; Early maps, some from the 19th century - including ethnographic and geographic maps; maps from Palestine; a photo album and ephemera from Pre-War Japan, including brochures from the America-Japan Society; transportation related brochures, including early bus routes, cruise ship ephemera; aviation and airline ephemera; B&O Railroad ephemera and more; Sporting goods catalogs; Farming implement catalogs; Household goods catalogs; Presidential portraiture books; first edition literature books; Antarctica exploration books; Science Fiction Books; Graphic Novel & Comics related books; Early engravings; Illustration art including Art Deco era Bus and transportation art, Automotive illustration art; pulp novel cover illustration art; advertising illustration art and mock-ups; advertising printers' proof artwork and posters; Circus posters; original photographs of circus clowns; photographic album of circus wagons, calliopes, animals and performers; Circus ephemera; Lucille Ball magazine advertising; Lucy and Desi magazines; I Love Lucy TV Guides, including the very first TV GUIDE issue; animation cels and animation art; comic art and collectibles; die-cut advertising and paper litho items; country store paper goods; postcards and scrap books; advertising signs; pin-up advertising, matchbooks, puzzles and ephemera; LIFE magazine photographer Ed Clark photographs of FDR's Funeral, Marilyn Monroe, and post-war Paris; Marilyn Monroe vintage calendar; early advertising posters, including French, German and Italian posters; Graf Zeppelin brochure from early 1930's; WWI vintage War bonds Posters and ephemera; industrial and commercial fixtures catalogs;
MORE INFORMATION AND DETAILS WILL BE ADDED!  We are still adding fabulous lots to this auction.  This sale will be at least 400 lots!